When you Look for a water bottle or Vacuum Flask for your kids, They may seem simple, but there are many things to think about that you might not realize. Beyond looks and price, what else do you need to consider when shopping for a kids water bottle or Vacuum Flask?
Some Vacuun Flasks have nice colour and lovely design. Some water bottles are easier to use for little hands. Some are less likely to leak. Others excel at keeping your drinks ice cold. Need a spill-proof bottle for the classroom?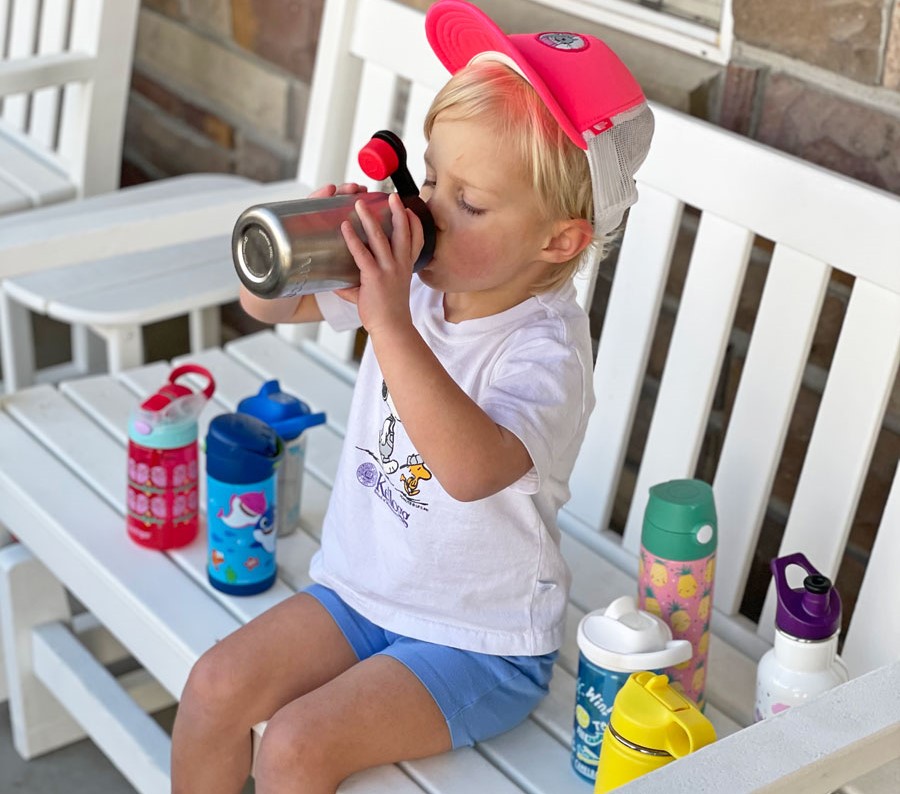 Before you decide to buy a water bottle or vacuum flask for your child, you should consider these four features:
Colours
and
looks
The choice of color and looks are the first factor for children to like or not.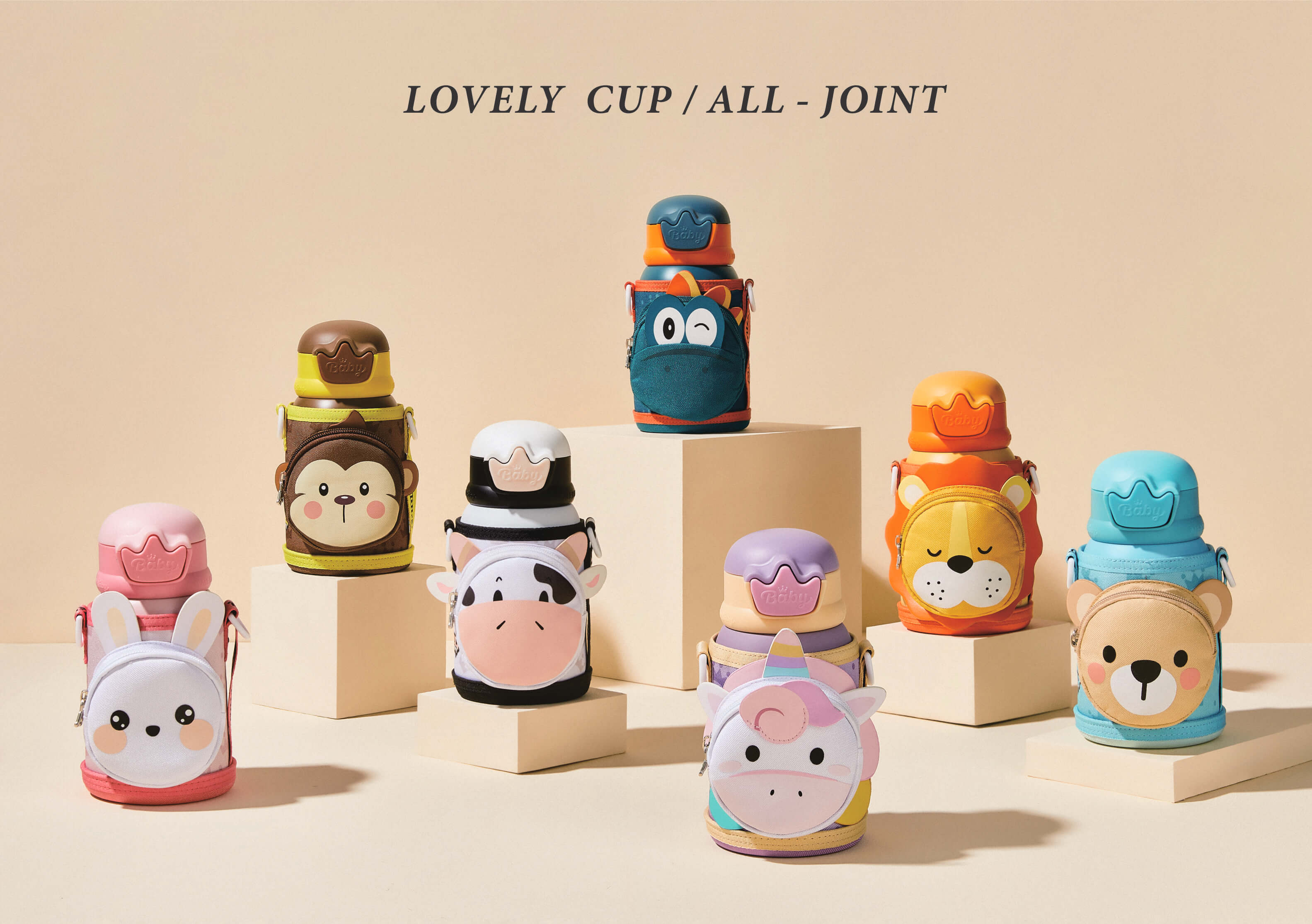 Favorite colors and good-looking designs will make children happy, more outgoing and lively, more likely to be loved by children around them, and more in line with children's cognition of the colorful world. It will not only make children fall in love with a healthier lifestyle--drinking more water, but also the expression of loved ones' love for children.
Spout Style
The type of spout you choose will determine how easy it is to drink, as well as how easily the liquids can spill or leak. Your child's age can determine what kind of spout you think will be best for them.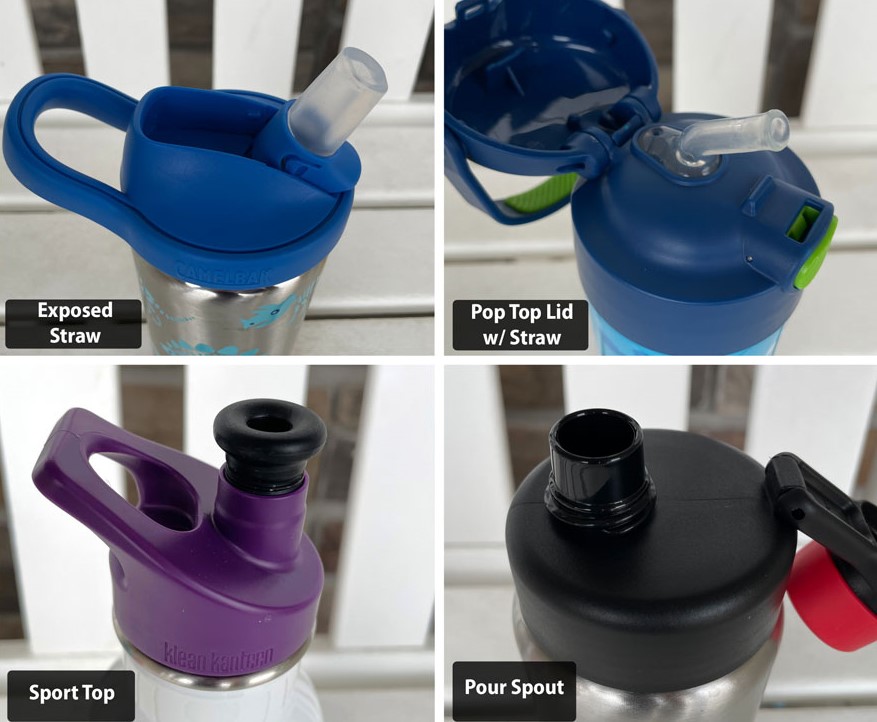 Exposed Straw – The straw flips back from the top of the lid and is not covered. This straw is easy for kids of all ages to use, just flip and sip! Only real drawback is the straw is not covered and exposed to germs.
Pop top lid with straw – Another spout with a straw, but this one is covered to keep dirt and germs away. After a simple push of the button, the straw pops out making it an easy drink for your child. While a younger child can use this bottle, it may take them a little bit to get the hang of opening and closing the lid. (ALL-JOINT vacuum flask)
Sport top – This exposed lid has a pull spout top for quick swigs. Just make sure the top is pushed all the way closed, otherwise it will leak when tipped over. This style of spout could be ideal for an older child.
Pour spout – Classic tip and drink spout. Great for a fast drink, but can spill quickly when open if you aren't careful!
Bottle Material
There are three primary materials that a bottle is made from. Each has its own pros and cons.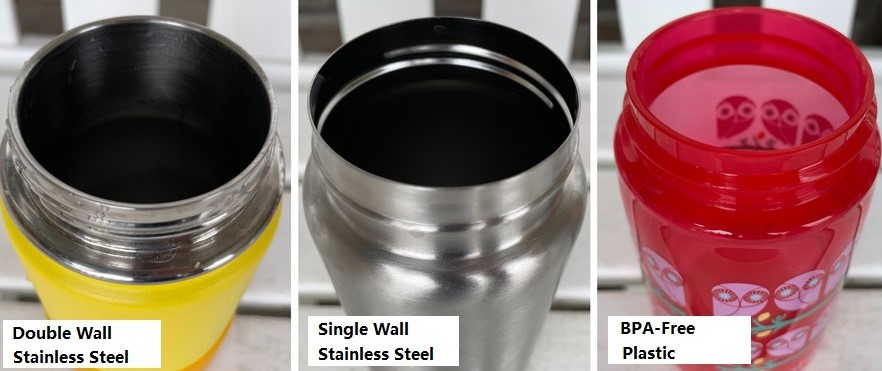 Stainless Steel Double Wall (Insulated): Vacuum sealed to maintain temperature over longer periods, insulated stainless stell doesn't transfer cold or heat to the outside layer of the bottle. But, these bottles also tend to be heavier and thicker.
Stainless Steel Single Wall (Non-Insulated): The drinks will stay cold, but will not keep the chill temperature for long periods of time. These are environmentally friendly, durable (does not rust) and easy-to-clean. Thin layers also result in cold temperature to the touch.
Plastic: This least expensive choice is also light weight. The plastic material means no dents in the bottle. They are BPA-free which means no chemicals. Final plus is you can see how much liquid is left in your bottle.
Purpose of Use
Biking – Making sure your child's drink easily fits into their water bottle cage is a must to keep your rider happy and hydrated! Most of our bottles do fit into a cage, but some fit more securely than others.
Hiking – When going on a hike with your child, it's important to consider the weight of the bottle. Fill it with ice/water and add it to your backpack to get a feel for what you will carry during your hike.
Everyday use – From the car to your child's backpack, there are many choices on our list. We recommend a lightweight option, which will make it easier for your child to carry around.
ALL-JOINT water bottles and vacuum flasks not only have beautiful colors and lovely looks, but also choose environmentally friendly and harmless raw materials, such as food grade silica gel, BPA-FREE plastic and imported 316 stainless steel.
At the same time, children's characteristics are fully considered in ALL-JOINT detail design. for example:
Our bottles size is designed according to children's small hands, so it is very suitable for children.
We have made a lot of efforts to prevent leakage and sealing of ALL-JOINT water bottles and vacuum flasks. Considering the convenience of carrying, each bottle is equipped with a strap, which will make it easier for your child to carry around when going on a hike or outdoor.
In the design of flask spout and bottle lid, all ALL-JOINT water bottles and vacuum flasks use pop top lid with straw, this one is covered to keep dirt and germs away. After a simple push of the button, the straw pops out making it an easy drink for your child.
Most importantly, We have creatively designed water bottle covers, such as cartoon, plush and gift, which can not only protect the bottle from collision and deformation, but also make the children love it.
Now give ALL-JOINT water bottles and vacuum flasks to your children or your lover.